Hans Op de Beeck, orn in 1969 in Turnhout, Belgium, lives in Brussels. He is both a painter and sculptor as well as a theater and film director, composer and writer.
Solo shows at the Kunsthalle Krems (2019), Scheepvaartmuseum, Amsterdam (2018), Kunstmuseum Wolfsburg (2017) and Sammlung Goetz, Munich (2014), among others.
Selected group exhibitions: Reina Sofia Madrid, Towada Art Center, ZKM Karlsruhe , Whitechapel Art Gallery London, MoMA PS1, New York, Centre Pompidou Paris. Participa-tion in the Venice Biennale, Shanghai Biennale and Aichi Triennale. Selected films: Staging Silence (2019) and Night Time (2014, KDK 2015).
KINO DER KUNST 2020
The Girl
EL 2017, HD, 16', ENGLISCH/ENGLISH
CAST: Elsa Houben
MUSIK/MUSIC: Tom Pintens, featuring Pitou
A Sleeping Beauty castle veiled in misty loneliness. As if in a fairytale, the world seems to have been abandoned suddenly and left to decay—except for a sleeping girl on a raft, with puncture wounds on her arms and cheek. She lies there in the fog, strange, peaceful and mysterious, while all around her a sickly coziness prevails: a campfire in front of an old mobile home, a deer between dark tree trunks, the smokestacks of an illuminated factory in the distance. A cryptic dream/space of collapse enhanced by the ethereal voice of the singer Pitou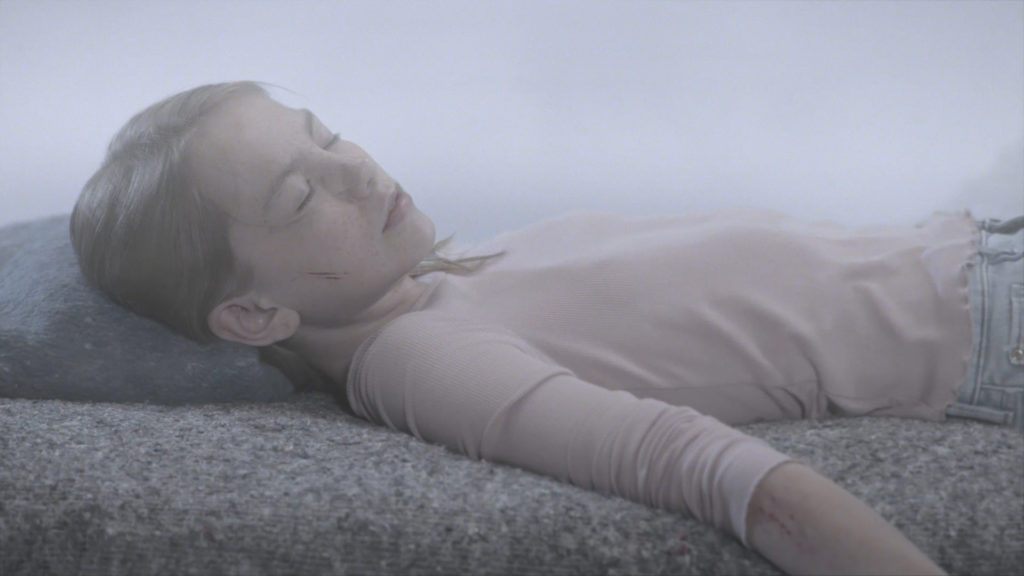 KINO DER KUNST 2015
Night Time
(BEL 2014, 15'30'', no dialogue)
German Premiere
A timeless, mysterious journey to nocturnal scenes. Some are deserted landscapes, others inhabited by anonymous figures. The Belgian artist simultaneously uses this cinematic journey to revisit his own work, taking numerous recent watercolors and refashioning them in this animated film to create a new story.