Halil Altindere, Born in 1971 in Turkish Kurdistan, lives in Istanbul. His work deals with political, social and cultural codes. Participation in the 58th Venice Biennale (2019), Gwangju Biennale, Triennale di Milano, Rencontres d'Arles (2018), Berlin Biennale, Manifesta 10 and documenta 12 (2007).
Recent solo exhibitions at Fundacja Nosna, Poland, Pilot Gallery, Istanbul, Neuer Berliner Kunstverein, MoMA PS1 and Kunst-palais Erlangen.
Selected films: Homeland(2016, KDK 2017) and Angels of Hell (2014, KDK 2015)
Website Halil Altındere
KINO DER KUNST 20
Ballerinas and Police
TUR 2017, HD, 9'39'', Ohne Dialog/No Dialogue
Kamera/cinematography: Cengiz Tanç
Choreografie/choreography: Idil
Dancing to Tchaikovsky's Swan Lake, four little swans join hands while form -ing an impenetrable curtain of delicate tutus. Gracefully, they perform their world-renowned dance in front of armed Turkish security forces whose drawn weapons are forcing matters to a head. In the aftermath of the brutally suppressed uprising in Istanbul's Gezi Park, Altındere has created a video in which the beauty of art literally dances in the face of political repression and its unimaginative politics. An ironic recoding that transforms the world-famous ballet into an act of resistance.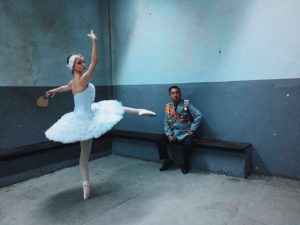 KINO DER KUNST 17
Homeland
(GER / TUR 2016, HD, 10´06″, Arabic)
Filmed in Turkey and Germany, this film relies on the tension between realism and fiction to focus on the experience of forced migration. Mohammed Abu Hajar gives voice to the contradictions brought about by the refugee status. The rhymes by the Berlin-based Syrian-born rapper accompany the viewer through scenes partially based on real footage. They take us from Istanbul to Berlin – a political centre where Europe's response to the refugee crisis is being sought.
Angels of Hell
(TUR 2014, 13'26'', no dialogue)
A parody of fast-paced action movies with shootouts, helicopters, suitcases full of money, conspiratorial meetings in mosques and a dwarf as James Bond. Gangsters control life in Turkey until an Atatürk doppelganger straightens things up again with a blonde at his side and his Kalashnikov.