PIPILOTTI RIST Himalaya Goldstein Stube
Pinakothek der Moderne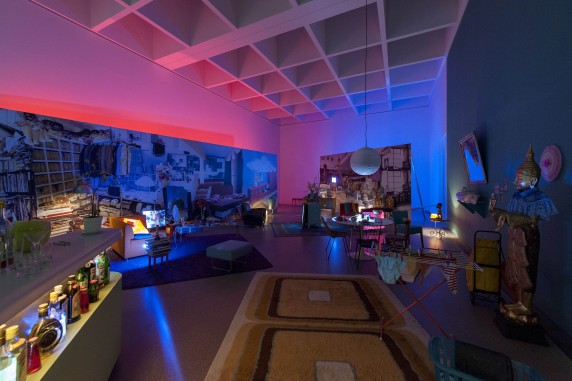 Pipilotti Rist, 'Himalaya Goldsteins Stube',1998/99, acquired by PIN. Freunde der Pinakothek der Moderne for the Sammlung Moderne Kunst. Bayerische Staatsgemäldesammlungen, Sammlung Moderne Kunst in der Pinakothek der Moderne, München. Photo: Bayerische S
The work, one of the largest whole­room installations by the Swiss video pioneer, combines everyday furnishings, tiny and medium­sized projections, light, and music to create a richly evocative environment. Superimposed over the space's sensual materials are flickering video images, projected from armchairs, side tables, and lamps. These ghostly emanations penetrate the space's dimensions and flit between layers of reality. The interior and exterior world, the public and private are melded into one. For the first time after ten years the installation is shown again at Pinakothek der Moderne – in form of an re­enactment.
---
Opening hours

Tue - ­Sun 10.00 a.m. - ­6.00 p.m.

Thu 10.00 a.m. - ­8.00 p.m.
The exhibition will be open until 31/12/17
---
Pinakothek der Moderne
Barerstr. 40
80333 München
---