kino kino (BR) gewährt einen spannenden Einblick in unseren Internationalen Wettbewerb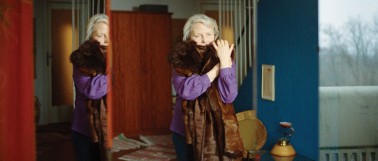 Michaela Schweiger, "Trabanten", 2013, 68 Min., Courtesy Galerie Walbröl, Düsseldorf
Seit heute sind ausgewählte Filme unseres Internationalen Wettbewerbs in Ausschnitten auf der Homepage des Kinomagazins des Bayerischen Rundfunks Kino Kino online!

Hier kommt ihr direkt zu folgenden Clips!
1) Jochen Kuhn "Sonntag 3"
2) Mikhail Karikis & Uriel Orlov "Sounds from Beneath"
3) Yulia Novicheva "Dance of the Death"
4) Nina Caspari "The Silk Silence of the Wild Cotton Candy"
5) Michaela Schweiger "Trabanten"
​6) Huang Ran "Disruptive Desires, Tranquility, and the Loss of Lucidity"
7) Sue de Beer "The Ghosts"
8) Maya Zack "Black and White Rule"
9) Björn Melhus "I'm not the Enemy"
10) Yael Bartana "Zamach / Assassination"
Nutzt die Möglichkeit eine Woche vor Festivalbeginn unser Programm besser kennen zu lernen!
Spannnnnneeeeeeennnnnndddd!!!
INFO
Kino Kino läuft mittwochs um 22.45 Uhr im Bayerischen Fernsehen. Freitags um 00.15 Uhr in BR-alpha. Samstags um 07.00 Uhr im Bayerischen Fernsehen.
mehr